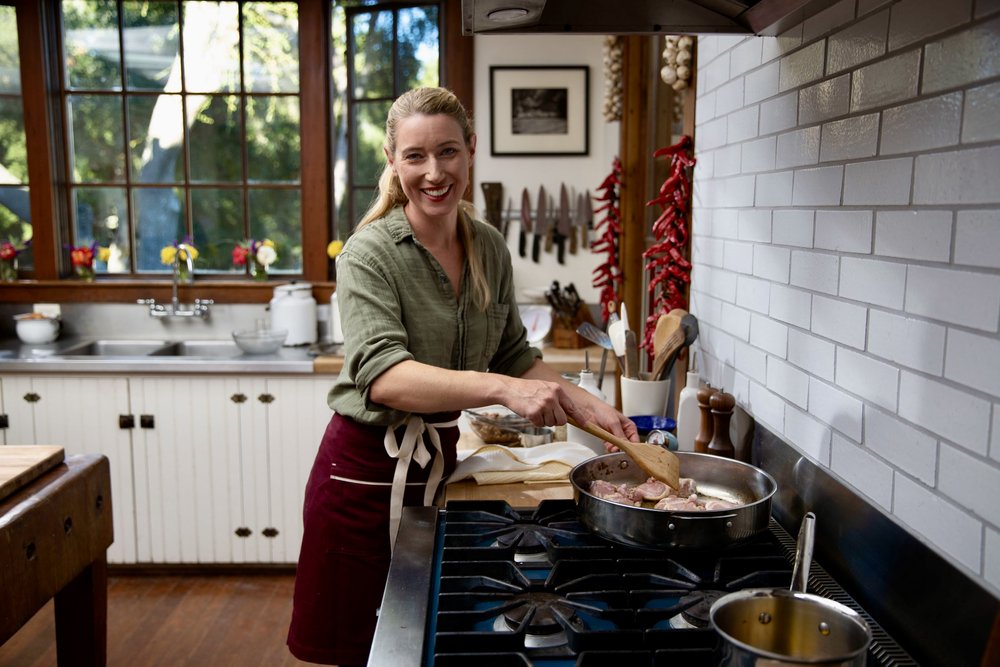 This is a recipe my mom created and has made for our family since I was young. It is a one pot recipe that makes a simple yet hearty meal. The combination of saffron, rice, meat, and vegetables creates a colorful, beautiful, and flavorful dish. It is a wonderful meal to prepare when you have friends and family over because it feeds a lot of people from one pot.
TIP: Have a bottle of olive oil on hand. If the paella pan looks dry to you while cooking the chicken and other ingredients on the stovetop, add a little bit of olive oil. And heat the broth. If you add room temperature broth to the rice mixture, it will slow the cooking down significantly. I also heat the white wine to get the most flavor out of the saffron.
Special Equipment: a paella pan
Arroz con Pollo
Recipe makes 10 servings. Total 1 hour and 35 minutes. Active time 70 minutes.
Ingredients:
½ cup white wine
1 teaspoon (or a large pinch) saffron threads
Olive oil, for the paella pan
1 pound mild Italian pork sausage, removed from casings
3 pounds bone-in, skin-on chicken thighs
8 cups chicken broth
2 medium onions, finely diced
3 garlic cloves, finely chopped
Kosher salt and freshly ground black pepper
2 large red bell peppers, finely sliced
4 Roma tomatoes, chopped
½ teaspoon smoked paprika
1 tablespoon fresh thyme
4 cups Arborio rice
½ cup frozen peas
Directions:
Preheat oven to 375°F.

Warm white wine in a small saucepan, then add saffron and bring to a simmer. Turn off heat and set aside to steep.

Cover the bottom of a paella pan with olive oil. Add sausage and brown slowly over medium heat, using a wooden spoon to scrape the bottom of pan and break up large pieces of sausage. Use a slotted spoon to move sausage to a heatproof bowl.

Leave the oil in the pan, then use the same pan to slowly brown chicken in 2 batches, skin-side down, over medium heat. Periodically move the chicken so that it does not stick. The goal is to brown each side until the skin is a golden brown but not sticking to the pan. This will take about 20 minutes total. Add olive oil as needed. Turn off heat. Use tongs to transfer chicken to a plate, leaving the oil in the pan. Use a wooden spoon to scrape any bits that are stuck to the pan, leaving the bits in the pan with oil.

Bring chicken broth to a simmer in a separate pot. Slowly sauté onions and garlic in paella pan over medium heat until golden brown, adding 2 teaspoons salt about halfway through the browning, about 10 minutes. Add bell peppers and sauté until soft, about 5 minutes. Add tomatoes, paprika, thyme, and 1/2 teaspoon black pepper. Add mixture of wine and saffron and let simmer, stirring until liquid has mostly evaporated.

Add the rice, stirring thoroughly to coat over medium-low heat. Add warm broth and stir. Add sausage and mix. Place chicken thighs skin-side up on top of the rice. Add peas, sprinkling them evenly over the surface. Cover and put in the oven for 25 minutes. Turn off the oven and let sit inside for 10 minutes before pulling out of the oven. Leave lid on pan until served. It can sit for up to 30 minutes.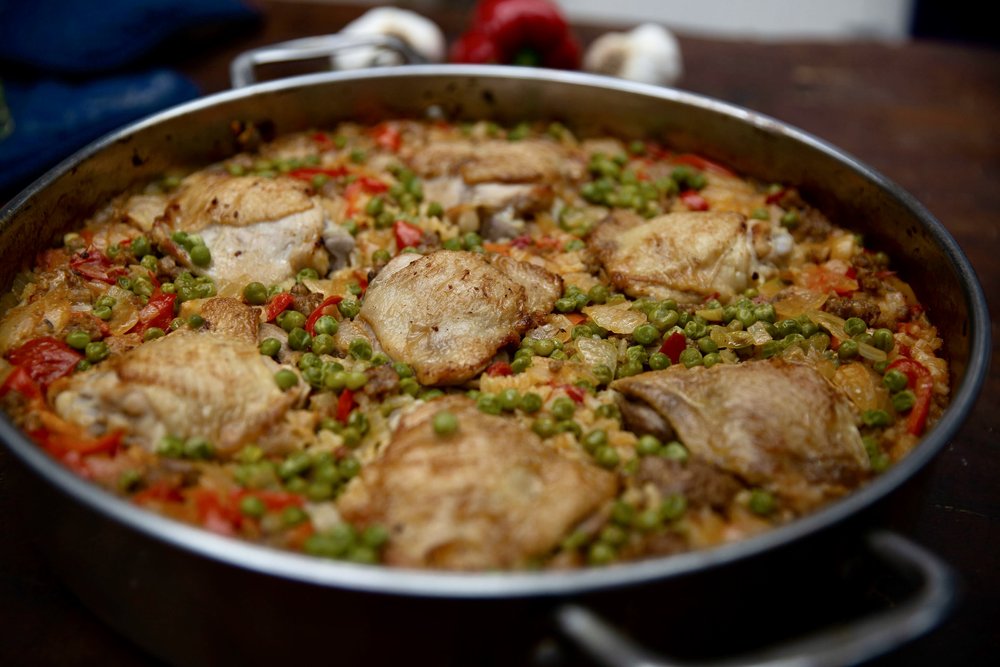 Recipe first featured on Ranch To Table Season 2 Episode 3: Three Generations on the Magnolia Network.
Enjoy!
Elizabeth
Photos: Brian Skope