Classic Lemon Meringue Pie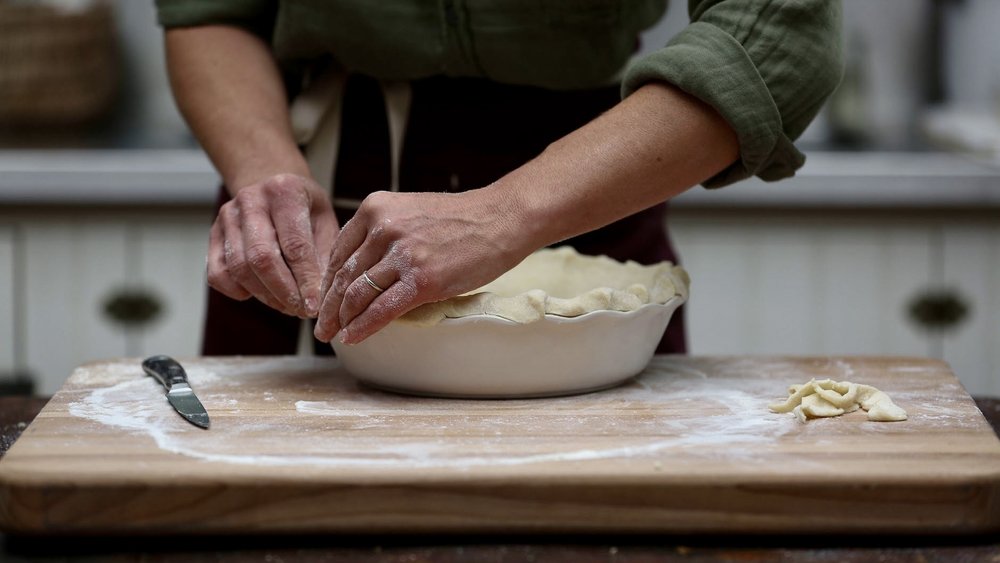 This is my dad's favorite pie. There are lemon people and chocolate people, and he is a lemon person, so I love to make this pie for him. The lemon filling is bright and fresh, and the meringue is fluffy as a cloud. It is a beautiful dessert, with a crust that is flaky and delicious but holds the pie together so well.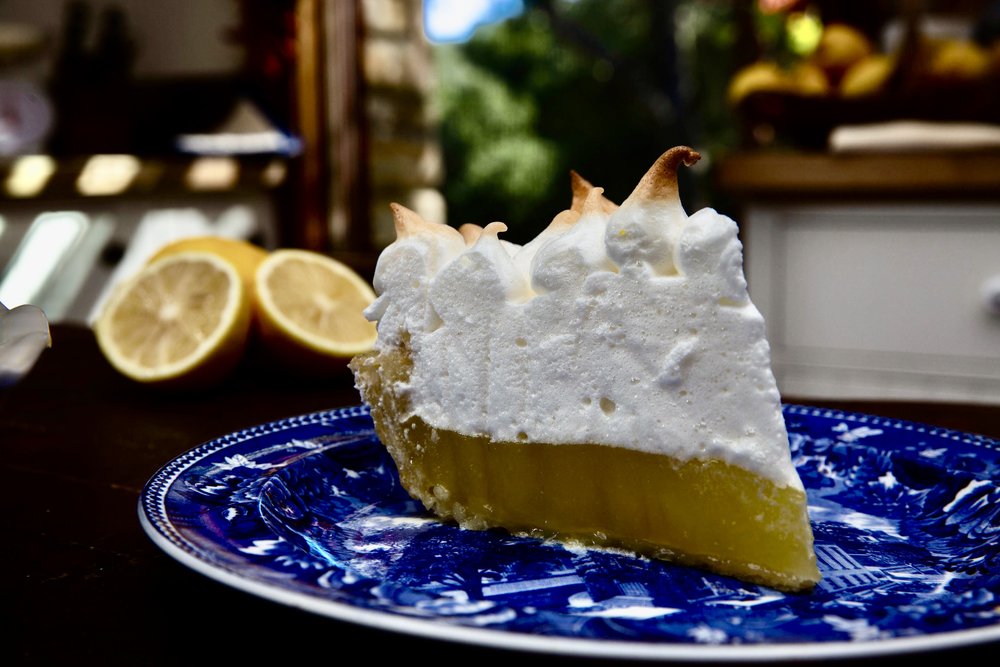 Special Equipment: a 9-inch ceramic pie dish, pie weights or dried beans
Classic Lemon Meringue Pie
Recipe makes 6 to 8 servings. Total time 6 hours and 30 minutes (chilling time included). Active time 40 minutes.
Ingredients:
Pastry:
1 ½ cups all-purpose flour, plus more for dusting
½ cup (1 stick) unsalted butter, plus more for dusting
2 tablespoons sugar
¼ teaspoon kosher salt
¼ cup ice-cold water
Filling:
1 ¾ cups sugar
6 tablespoons cornstarch
¼ teaspoon kosher salt
½ cup water
½ cup fresh lemon juice
3 large eggs yolks, beaten
2 tablespoons unsalted butter, cut into cubes
1 ½ cups boiling water
Meringue:
9 large egg whites
¾ cup sugar
1½ teaspoons vanilla extract
½ teaspoon cream of tartar
Directions:
For the pastry: Combine flour, butter, sugar, and salt in food processor. Pulse until mixture looks gritty. Add water slowly as you continue to pulse mixture. Stop pulsing when the mixture holds together when squeezed into a cohesive ball. Turn out onto floured surface and press into a flattened disk. Wrap in plastic and refrigerate for at least 2 hours.

Preheat oven to 400°F.

Roll out the dough to 1/4 inch thick. Trim dough to fill a 9-inch ceramic pie dish and overlap the rim by 1 inch. Turn under the edge to match the rim of dish and pinch the dough along the entire rim. Use a fork to poke holes in the dough in three spots.

Line pie crust, including edges, with foil. Weigh the foil down by filling with pie weights or dry beans. Bake for 15 minutes. Remove beans and foil and bake for 5 to10 minutes longer, or until golden brown. Set aside to cool.

Turn oven temperature down to 350°F.

For the filling: Before turning on heat, combine sugar, cornstarch, salt, water, and lemon juice in a large saucepan and mix. Turn on low heat and mix until smooth. Add egg yolks, stirring constantly. Add butter and stir until melted. Add boiling water while stirring constantly. Watch the consistency of the filling. As soon as it begins to thicken, which will happen quickly, turn down the heat and simmer slowly while stirring. When filling holds its shape, after about 1 minute, remove from heat and set aside.

For the meringue: Use an electric mixer to beat egg whites on high speed until they are very frothy. Add vanilla, mixing on high speed until incorporated. Add sugar and cream of tartar and beat until the mixture holds a stiff peak, 5 to 7 minutes.

Use a rubber spatula to place a layer of meringue evenly on top of the filling. It is important to start at the crust and work your way from the outside to the center. The goal is to form a mountain-shaped meringue layer. Then use a piping bag to decorate the top of the pie with the meringue if desired to dress it up a bit.

Bake for 5 to 10 minutes, or until the tips of the meringue are golden brown. Let cool on counter for 10 minutes before moving to the refrigerator. Chill for at least 3 hours or overnight.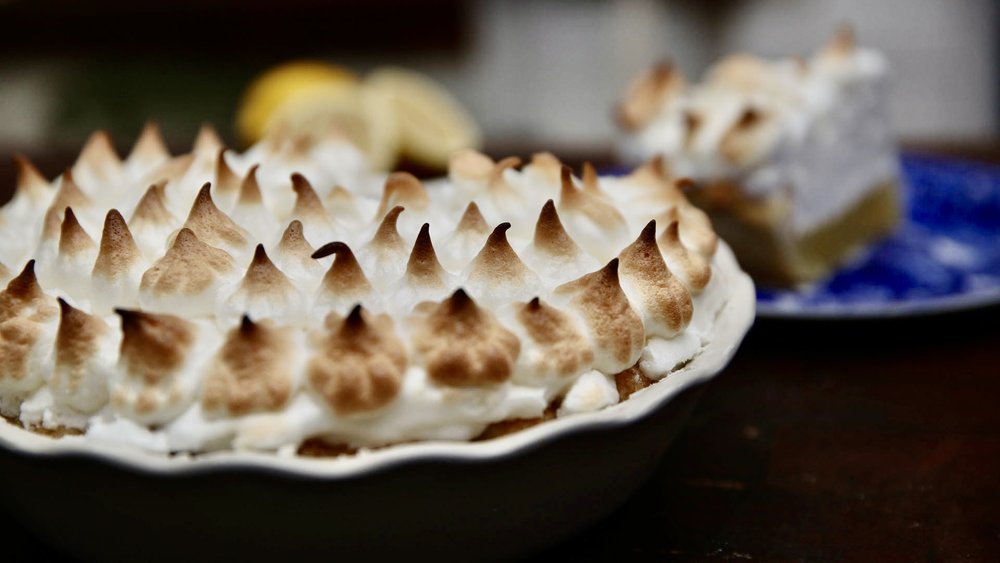 Recipe first featured on Ranch To Table Season 2 Episode 3: Three Generations on the Magnolia Network.
Enjoy!
Elizabeth
Photos: Brian Skope