This chicken pot pie is hearty yet nourishing. It highlights the vegetables, which stay bright and colorful. The chicken is poached not roasted, so the broth from the poaching adds depth to the flavor. The pastry is flaky, buttery, and rich, and it is a wonderful way to feed a large group of friends.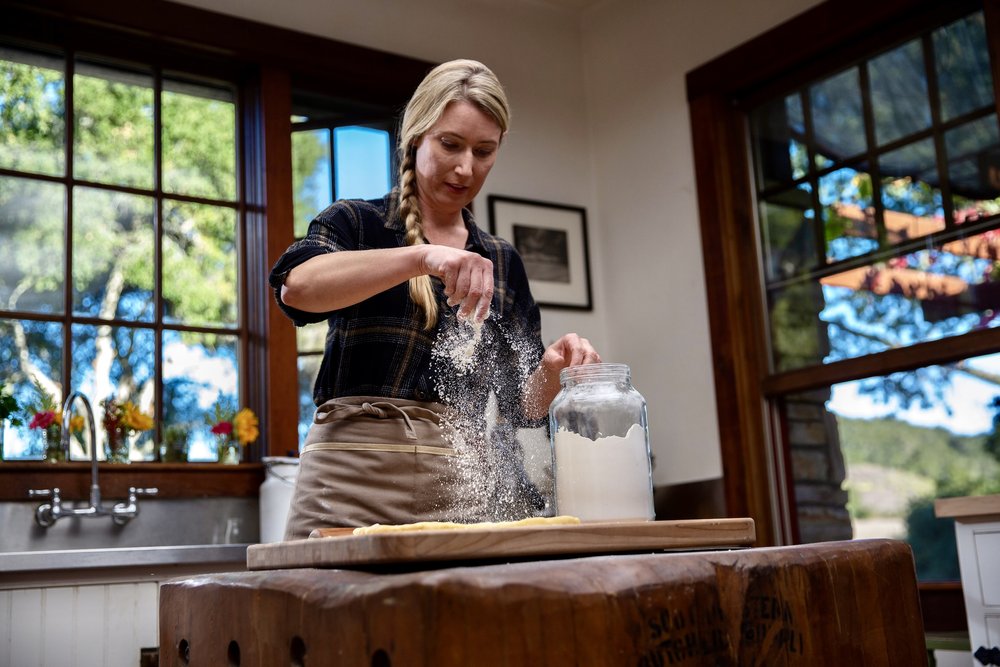 TIP: Save all of the broth from the poached chicken because it is so flavorful, and you might want to add a little bit more to the filling as it cooks.
Special Equipment: a large Dutch oven, a 10-inch cast iron pan or 9 x 12-inch baking pan
Chicken Pot Pie
Recipe makes 8 servings. Total time 4 hours (chilling and cooling time included). Active time 110 minutes.
Ingredients:
Pastry:
4 large egg yolks, at room temperature, plus 1 large yolk, for egg wash
3 ½ cups all-purpose flour
½ teaspoon kosher salt
1 ¼ cups (2 ½ sticks) unsalted butter, cut into cubes and chilled
Poached Chicken:
One whole 5-pound chicken
2 medium yellow onions, peeled and halved
2 teaspoons black peppercorns
1 bay leaf
Filling:
¼ cup olive oil
2 large yellow onions, finely diced (about 4 cups)
6 garlic cloves, finely chopped
2 large red bell peppers, finely chopped
8 carrots, peeled and sliced into ½-inch rounds (about 2 cups)
16 crimini or Baby Bella mushrooms, chopped
4 celery stalks, finely chopped (about 2 cups)
1 ½ cups fresh or frozen corn
1 ½ cups fresh or frozen peas
Kosher salt and freshly ground black pepper
¼ cup (½ stick) unsalted butter
4 to 8 cups chicken broth (saved from poaching the chicken)
2 tablespoons Italian parsley, finely chopped
2 teaspoons fresh thyme leaves
¼ cup all-purpose flour
Directions:
For the pastry: Beat egg yolks in small bowl until combined. Put flour, salt, and butter into a food processor, tossing to make sure each butter piece is coated in flour. Blitz flour and butter until the texture is like sand. With food processor running, slowly add egg yolks to the dough. The dough should begin to come together in a mass. Remove from food processor and press together into a disk by hand. Wrap in plastic and refrigerate at least 2 hours, or overnight.

For the poached chicken: Place chicken in a large pot and cover with water. Add onions, peppercorns, and bay leaf, making sure ingredients are all submerged by 2 inches of water. Cover the pot and bring to a boil. Turn down to a simmer, leaving partially covered. After 45 minutes, turn off the heat and let chicken cool in the broth.

For the filling: Preheat the oven to 350°F.

Add olive oil and onions to a large Dutch oven. Sauté over medium heat until translucent, 5 to 7 minutes. Add garlic, stirring occasionally, until softened, 2 to 3 minutes. Stirring between each addition, add bell peppers, carrots, mushrooms, celery, corn, and peas. Add 2 teaspoons salt and 1/4 teaspoon black pepper. Add butter, mixing as it melts. Add 4 cups of reserved chicken broth, parsley, and thyme, then let vegetables simmer over low heat until tender, testing after about 5 minutes. Taste the vegetables as they cook and add more chicken broth as needed. Once all the different vegetables are tender, turn off the heat.

Remove skin from chicken pieces and pull meat off bones. Chop chicken into rough 1-inch cubes, making sure to cut out any gristle. Add meat to Dutch oven and bring the pot to a low simmer. Salt to taste and make sure all vegetables are tender but not overcooked. Turn off the heat. Use a wooden spoon to mix in the flour, one spoonful at a time. Make sure to really mix the flour in to avoid any clumps forming. Allow filling to cool down to room temperature.

Butter a 10-inch cast iron pan or 9 x 12-inch baking dish. Spoon the filling into dish, making sure to pack it in evenly.

Roll out the dough to a 1/4-inch thickness. Lay dough over the filled dish and carefully fold under the sides so that the folded dough is barely over the edges of the dish.

Use a pastry brush to wash pastry thoroughly with a whisked egg yolk. Bake for 1 hour. Pastry should be golden brown, you should hear the filling bubbling, and smell the aroma of the vegetables. If the crust is browning too quickly, cover with foil.

Remove from the oven and let cool for 20 minutes before serving.
Recipe first featured on Ranch To Table Season 2 Episode 4: Cooking for the Crew on the Magnolia Network.
Be sure to sign up for our mailing list to get alerts about future recipes!
Enjoy!
Elizabeth
Photographs by Brian Skope